Mark Berger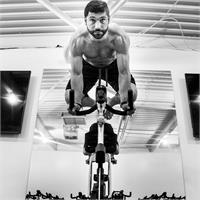 Cycling, Yoga, and TRX Instructor-extraordinaire! Mark Berger is a New Orleans native, attended LSU, and has been in the fitness industry for the past 8 years. Mark is an investor in Varsity Sports, has a running, triathlon, and fitness business called NOLAmultisport, puts on a few races in New Orleans, President of the biggest running club in the city called Happy's Running Club NOLA, and has raised lots of money through fitness with his charity RunLife Foundation. Mark is also the running and fitness national ambassador from New Orleans for lululemon. Mark has participated in over 100 endurance events including Marathons, Ironmans, and fitness competitions all over the country. He has trained collegiate and professional athletes to perform at their highest levels and has been in the news and online media for his contributions to the athletic world.
Mark Berger instructs the following:
This class adds suspension training (TRX) with our popular 30-minute EPIC class. All-levels Welcome!

E.P.I.C. (Efficient/Power/Interval/Circuits) training system combines interval training concepts with full-body strengthening techniques in a time efficient format. E.P.I.C. is a high-intensity group training that gives you the most efficient workout in 30 minutes. This workout is for all skill levels and will help you build strength, cardiovascular endurance, flexibility, balance, core stabilization, gain lean muscle, and stay safe in your daily routine.




We believe that yoga is for everyone and it brings benefits to to us in many ways. If you are a beginner, athlete, or experienced yogi, Power1 is an all level full body, functional, heated, Vinyasa flow that helps you attain the physical, mental, and spiritual benefits of yoga. We will have 60 & 75 minute classes, which will increase awareness and help progress your knowledge/practice in the art of yoga.

Yoga, Love, Strength...Power




A full body workout combining 35 min of an Indoor Cycling class with 35 minutes of Power Vinyasa Heated Yoga. BB brings us off the seat and onto the mat for stretching and core exercises.




This class combines stamina, strength, and stretching from 30 minutes of Cycling, 15 minutes of High-Intensity Interval Training (HIIT), and 35 minutes of Yoga into one BADASS routine to to get the ultimate full-body workout. Mats required. All levels welcome




This powerful flow integrates movement & breath, while increasing flexibility & strength using the TRX straps as a prop. This will bring awareness of discrepancies between the left & right sides of the body, while challenging your balance and core stability.

Join us for this newly designed HIGHERPOWER class that incorporates two of our disciplines into one class: Yoga and TRX!