Mark Berger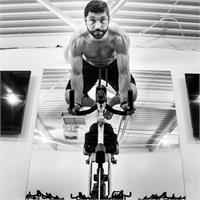 Cycling, Yoga, and TRX Instructor-extraordinaire! Mark Berger is a New Orleans native, attended LSU, and has been in the fitness industry for the past 8 years. Mark is an investor in Varsity Sports, has a running, triathlon, and fitness business called NOLAmultisport, puts on a few races in New Orleans, President of the biggest running club in the city called Happy's Running Club NOLA, and has raised lots of money through fitness with his charity RunLife Foundation. Mark is also the running and fitness national ambassador from New Orleans for lululemon. Mark has participated in over 100 endurance events including Marathons, Ironmans, and fitness competitions all over the country. He has trained collegiate and professional athletes to perform at their highest levels and has been in the news and online media for his contributions to the athletic world.
Mark Berger instructs the following:
E.P.I.C. (Efficient/Power/Interval/Circuits) training system combines interval training concepts with full-body strengthening techniques in a time efficient format. TRX E.P.I.C. is dynamic group training that gives you the most productive workout in 45 minutes. This workout is for all skill levels and will help you build strength, cardiovascular endurance, flexibility, balance, core stabilization, gain lean muscle, and remain safe in your daily routine. We uses Suspension Training along with other functional modalities to give you the most functional and challenging full-body routine.