Sam Marrone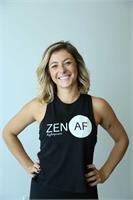 "Everything you need is inside. Just let it on out."
Hailing from sunny South Florida with a dance background, Sam began life in New Orleans in 2007. This lucky libra's business and law school degree programs took her around the country and world where she first explored cycling in Los Angeles and beyond. During her first summer legal internship in Venice, she sent her mom her acceptance letter into a cycling audition program. While quitting law school to be on the bike full-time seemed far more appealing, Sam decided to put off her cycling instructor dreams to finish law school. She leaped at the first opportunity as a young attorney to get on that front bike. Sam adds choreography to the beat of the music, leaving you ready to show off on the dance floor. Get ready to get lost in the music, dig deep and sprint it out of the saddle to a sweaty and sexy blend of house, hip-hop and classic tunes mixed with a few emotional and inspirational melodies. When she isn't in the cycling studio, Sam is practicing yoga (currently in yoga teaching training), enjoying New Orleans delicious dines or cooking, helping out with her Mardi Gras krewe - Krewe de Lune or the New Orleans Burning Man Community or enjoying a healthy dose of outdoors (with Huey P. Marrone her pup of course). So, stay open, stay curious and get ready to ride to the rhythm.
Sam Marrone instructs the following:
Higher1 is a 45 minute high-energy cycling experience with fun music, positive reinforcement, and a great way to get that quick sweat, on our state of the art bikes. This class is for all levels.

*ADVISORY - from time to time, our instructors will use certain songs that may contain explicit language. Please consult the front desk before the class to inquire further.

PLEASE NOTE - We have a limited supply of complimentary cycling shoes in each size and are distributed on a first-come basis.