Tiffany Aidoo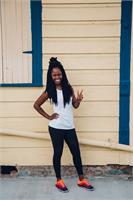 Tiffany is a Slidell native who transpired her love for fitness in New Orleans.
She is a former Tulane Division 1 basketball player who combines resistance and high intensity training to improve her fitness levels. Her love for sports also continues through her roles as a NASM personal trainer and in the Mayor's office as the NOLA FOR LIFE Program Manager implementing the Midnight Basketball and Mentoring programs.
Tiffany believes in spreading her positive energy by creating a space for a diverse group of individuals to build on the wealth of a healthy mind, body, and spirit. She may even share some afro-pop jams and dance moves too!
Tiffany Aidoo is currently not instructing any classes.