Whitney Mitchell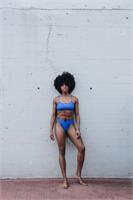 Whitney, a Staten Island, New York native, is a former LSU Track & Field Tiger. Having spent more than 10 years as a mid-distance runner, Whitney has transition to long distance road races and maintains her aerobic capacity on the higherpower cycle bikes. Whitney is inspired to create equity and access to premiere forms of fitness - allowing clients to find joy, purpose and intention in their exercise while feeling apart of a warm, welcoming community. Whitney's class is high energy and has a special love for resistance and hill climbing.
Whitney Mitchell instructs the following:
Higher1 is a 45 minute high-energy cycling experience with fun music, positive reinforcement, and a great way to get that quick sweat, on our state of the art bikes. This class is for all levels.

*ADVISORY - from time to time, our instructors will use certain songs that may contain explicit language. Please consult the front desk before the class to inquire further.