Meg Goodner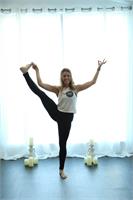 Meg was drawn to yoga immediately – becoming a weekly practitioner from her very first class.
That first introduction was to Ashtanga, where her Type A side enjoyed the challenge of taking each pose a bit further each time she met the mat. 2 years later, on the eclectic and funky Edgewood Avenue in Atlanta, Georgia, she found Hotlanta Yoga. It's there that Meg learned the beauty and strength of Athletic Power Yoga and she enrolled in their 200 hour RYT program.
Meg's classes are faster-paced on-the-beat vinyasa flows that combine dynamic movement with callisthenic-type exercises. Meg's creative sequencing is a product of her love of dance, movement and music.
Meg Goodner instructs the following:
A full body workout combining 35 min of an Indoor Cycling class with 35 minutes of Power Vinyasa Heated Yoga. BB brings us off the seat and onto the mat for stretching and core exercises.

PLEASE NOTE - We have a limited supply of complimentary cycling shoes in each size and are distributed on a first-come basis.