Nicolette Colly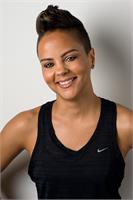 Nicolette was born and raised in New Orleans. She is a personal trainer, health coach and group fitness instructor. Divorce, job loss, high cholesterol and bouts with depression and anxiety pushed her to learn and teach others, in a transparent way, how pursuing a healthy lifestyle can create joy, change relationships, and find purpose. Her love for food, friends, family, and fitness continues to grow in the city she calls home.
I change the world everyday by loving my family and friends, being the change that I want to see and showing up no matter what, someone may really need me that day.
Nicolette Colly is currently not instructing any classes.