Frank Flick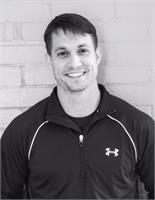 My name is Frank and I am a certified personal trainer. I'm a Floridian born native whom grew up in New Orleans. Upon graduating Holy Cross High School, I entered the active Military where I obtained a wide range of knowledge, experience, and newfound outlook on life. Free time is sparse in my life. I always occupy it with something interesting or spend it with my daughter. My classes will guarantee a sweat and the feeling of exhaustion as you walk away gaining strength, courage and confidence. I enjoy anything that mentally and physically challenges me.
Frank Flick instructs the following:
E.P.I.C. (Efficient/Power/Interval/Circuits) training system combines interval training concepts with full-body strengthening techniques in a time efficient format. TRX E.P.I.C. is dynamic group training that gives you the most productive workout in 45 minutes. This workout is for all skill levels and will help you build strength, cardiovascular endurance, flexibility, balance, core stabilization, gain lean muscle, and remain safe in your daily routine. We uses Suspension Training along with other functional modalities to give you the most functional and challenging full-body routine.