Maddie Donelon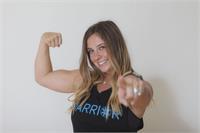 People say "find what it is you love and find a way to make a living out of it .." well that's exactly how I came into the fitness world. I love working out, having fun, and helping people so what better way to do all this then become a trainer! I'm a Nola girl born and raised, and I love to enjoy everything my city has to offer; but I balance it out with having a work hard, play hard attitude! I have two girls, Amelia and Andie, who bring so much joy to my life, and I love being able to set a good example for them on how to be a strong woman mentally and physically and to enjoy life to the fullest! My goal is to have everyone working out so they can see their full potential and how awesome they can feel. I think it's a shame to go through life and never know this feeling!
Favorite Quote:
"Be fearless in the pursuit of what sets your soul on fire"
Maddie Donelon instructs the following:
E.P.I.C. (Efficient/Power/Interval/Circuits) training system combines interval training concepts with full-body strengthening techniques in a time efficient format. TRX E.P.I.C. is dynamic group training that gives you the most productive workout in 45 minutes. This workout is for all skill levels and will help you build strength, cardiovascular endurance, flexibility, balance, core stabilization, gain lean muscle, and remain safe in your daily routine. We uses Suspension Training along with other functional modalities to give you the most functional and challenging full-body routine.