Maddie Donelon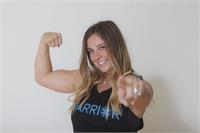 People say "find what it is you love and find a way to make a living out of it .." well that's exactly how I came into the fitness world. I love working out, having fun, and helping people so what better way to do all this then become a trainer! I'm a Nola girl born and raised, and I love to enjoy everything my city has to offer; but I balance it out with having a work hard, play hard attitude! I have two girls, Amelia and Andie, who bring so much joy to my life, and I love being able to set a good example for them on how to be a strong woman mentally and physically and to enjoy life to the fullest! My goal is to have everyone working out so they can see their full potential and how awesome they can feel. I think it's a shame to go through life and never know this feeling!
Favorite Quote:
"Be fearless in the pursuit of what sets your soul on fire"
Maddie Donelon instructs the following:
Higher1 is a 45 minute high-energy cycling experience with fun music, positive reinforcement, and a great way to get that quick sweat, on our state of the art bikes. This class is for all levels.

*ADVISORY - from time to time, our instructors will use certain songs that may contain explicit language. Please consult the front desk before the class to inquire further.




Take your TRX workout, add some functional fitness toys (Bosu, Kettle & Sand Bells, Jump Rope, etc...) and bring them all together for the ultimate full-body and core workout. All levels are welcome!