Michelle Gaubert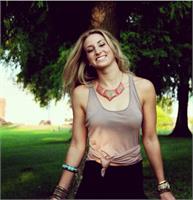 I'm Michelle and I teach the Higher (1) cycling here at Higher Power! I graduated from Centenary College with a Biology degree in 2014. I am an ex-collegiate swimmer and a fitness lover! I was bored when I finished my last swim season so I started riding a aluminum road bike from 1982 (literally). I quickly fell in love with cycling (and quickly updated my bike). My love for the road is what has brought me to Higher Power! I had a willingness to learn and a desire to become part of something more, something where I can share my knowledge and talents with others. When I can, I love to get outdoors on the open roads, but I've also fallen in love with the high-energy thrill that comes with the atmosphere of an indoor cycling class.
Michelle Gaubert instructs the following:
Higher1 is a 45 minute high-energy cycling experience with fun music, positive reinforcement, and a great way to get that quick sweat, on our state of the art bikes. This class is for all levels.

*ADVISORY - from time to time, our instructors will use certain songs that may contain explicit language. Please consult the front desk before the class to inquire further.