Cory Grant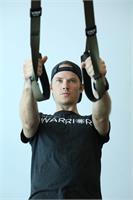 Cory, a Phoenix, Arizona native, has called New Orleans home for the past 5 years. During his undergrad at the University of Dallas, Cory participated on the Men's Track and Field and Golf teams, and was named a Division III Academic All-American. Though he is now an attorney by trade, Cory remains active in the local running and triathlon communities as a member of the GNOTri Triathlon Club, and is still a single-digit handicap golfer. Cory is excited to join the Higher Power team and looks forward to helping people find their high!
Cory Grant instructs the following:
E.P.I.C. (Efficient/Power/Interval/Circuits) training system combines interval training concepts with full-body strengthening techniques in a time efficient format. TRX E.P.I.C. is dynamic group training that gives you the most productive workout in 45 minutes. This workout is for all skill levels and will help you build strength, cardiovascular endurance, flexibility, balance, core stabilization, gain lean muscle, and remain safe in your daily routine. We uses Suspension Training along with other functional modalities to give you the most functional and challenging full-body routine.