Jenni Duplantis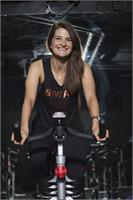 I grew up in Mandeville, LA and love it dearly, but adopted this absurd, brash, and beautiful city as my own in 2012. I was a competitive dancer for most of my life, but in college, I found out quickly that that french-fries and late nights were catching up to me. So, I turned to running, dropped 25 lbs, and even took a marathon training class while in graduate school at LSU. Running was my first love and I've been lucky enough to complete 9 marathons since 2009. In 2010, I decided to attempt my first triathlon with 12 of my closest Varsity Sports co-workers. Another finish line love story transpired and I've never looked back. Cycling has been a challenge, but indoor cycling has helped me find a love for the bike. I love to sweat, and I love to jam out to music- indoor cycling lets me do both! Come to my class if you are looking for a dance part/ workout that will help you forget about how hard you are working!
Jenni Duplantis instructs the following:
Performance Cycling is an hour long class designed to promote endurance and gain a better understanding of bike mechanics and metrics.

PLEASE NOTE - We have a limited supply of complimentary cycling shoes in each size and are distributed on a first-come basis.