Jen Meinen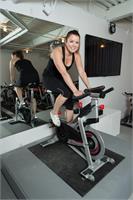 I have been a fitness instructor for 5 years, teaching Spin, TRX, and yoga around the New Orleans community. I ran my first 5K in 2003, and since then, have continued to grow as an athlete and instructor, outside of my career in medical device clinical research. I have competed in half ironman and half marathon races all over the country, while expanding my passion for cycling, swimming, and running, but also balancing my training with regular classes in yoga and CrossFit. I recently completed the Free to Be Empowered 200 Hour Yoga Teacher Training Program with a Baptiste affiliated studio in New Orleans, and have truly embraced the changes in myself through this work. This experience has inspired my classes in the cycling room and yoga studio, where I am able to give more through my words and experiences than ever before. I enjoy inspiring my indoor cycling rides and yoga practice with my experiences and my music, while also challenging my students to explore opportunities to grow both in their commitment to fitness and motivation to achieve their individual goals.
Jen Meinen instructs the following:
Higher1 is a 45 minute high-energy cycling experience with fun music, positive reinforcement, and a great way to get that quick sweat, on our state of the art bikes. This class is for all levels.

*ADVISORY - from time to time, our instructors will use certain songs that may contain explicit language. Please consult the front desk before the class to inquire further.




A full body workout combining 35 min of an Indoor Cycling class with 35 minutes of Power Vinyasa Heated Yoga. BB brings us off the seat and onto the mat for stretching and core exercises.